UTICA/ROME -- A major restaurant chain known for its great ice cream recently hosted "Free Ice Cream Day" at nearly all of its locations last weekend.  In many markets, radio stations ran live remotes to draw more attention to the event, and it's been awhile since we've had a Picture of the Week from Utica... where Kiss-FM (WSKS/WSKU) was promoting the giveaway.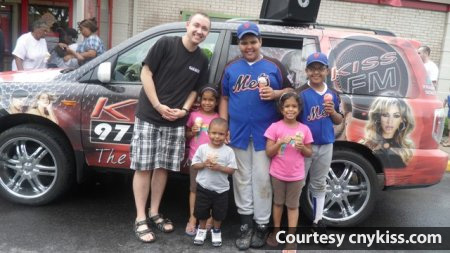 Here's PD/Middayer Shaun Andrews out at the ice cream chain's North Utica location this past Saturday with some listeners.  We'll admit, here at CNYRadio.com HQ, your editor is a Mets fan, so that's why we chose this photo over any of the others posted on the WSKS/WSKU website.
Got Pictures?
Before today, the last three POTWs in a row were from Syracuse.  We usually do try to avoid featuring photos from the same market twice in a row, but those three were all reader submissions, which usually trump our usual rotation.  So if your station (or market) hasn't been featured in the POTW in awhile, send those photos to cnyradio@cnyradio.com.  We're always interested in a look at the latest from your station today, or a look back at something or someone notable from the past.  There's a new POTW every Friday.
Bonus Pictures
We also had some pictures from other radio-related events in/around Syracuse from the past week.  If you're following @cnyradio on Twitter, you already saw them -- that's the only place we posted 'em.  Follow us on Twitter for updates on every news story we post, along with other occasional "Twitter exclusives."