SYRACUSE -- When you visit The Great New York State Fair later this summer (in just 36 days, to be exact), you'll hear a pair of familiar voices on the public address speakers throughout the fairgrounds.   Longtime 93Q (WNTQ) morning co-hosts Ted Long and Amy Robbins are the fair's new announcers.
In a press release issued today by the New York State Fair, Director Dan O'Hara said, "Ted and Amy are great additions to the Fair and they are going to do a fantastic job - they certainly have voices which are going to be recognizable."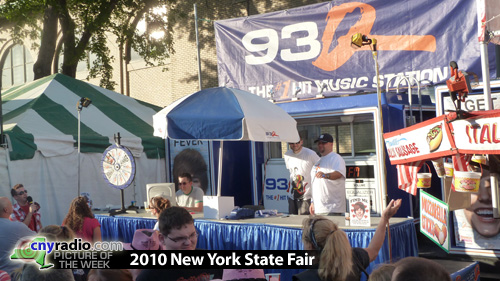 Long and Robbins will voice the announcements listing the various events throughout the Fair's 12-day run.  You'll also spot the pair emceeing various events at the Fair, and introducing the free concerts at Chevy Court.
While the announcement will undoubtedly reinforce Ted and Amy's popularity in the area, it's a bittersweet promotion -- the job became available after Bob Gibbons, who was "the Voice of the Fair" for more than two decades, lost his battle with prostate cancer last December.
In the State Fair press release, Ted and Amy acknowledged Gibbons' legacy:
"Bob was as kind and impressive in person as he sounded as the Voice of the Fair.  Obviously there is no taking Bob's place," said Ted and Amy.  "But we cannot express how honored we are to continue on the legacy.  We have been a part of the Fair for decades ourselves and love everything about it.  We look forward to playing an even bigger role this year and are anticipating a wonderful twelve day run."
In fact, Ted and Amy won't be completely taking over the job -- O'Hara said, "I don't think we could get through a Fair without hearing Bob's voice so one thing that will not change are the time announcements, Fairgoers will continue to hear Bob's voice calling out the time."
The Great New York State Fair runs August 25 through September 5.
Got News?
Our thanks to an anonymous insider who tipped us off to keep an eye out for today's press release... if you've got news to share about happenings at your local radio or TV station, let us know!  You can get us at cnyradio@cnyradio.com, or by filling out the Contact Form, on Twitter @CNYRadio or through our Facebook Page.