SYRACUSE -- You won't need a DeLorian or Mr. Fusion™ for this trip back in time... just a few mouse clicks to check out our latest Picture of the Week.  It's a great shot of the news team from 570 WSYR back in May of 1985.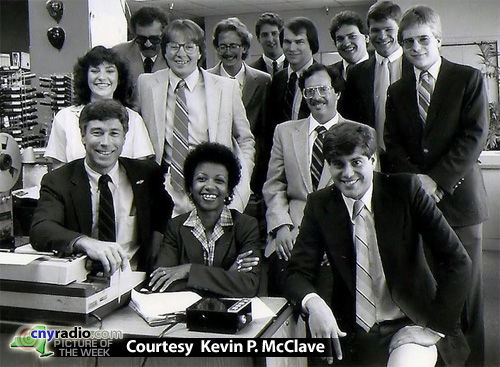 Front row, from left: John Butler, Karin Franklin and Brad Bierman.
We'll consider everyone else the second row, from left: Christine Rogers, Dave White, Dick DeLine, Jim Reith, Roger Mirabito, Joseph Reid, Howard Modell, Ron Lombard, Kevin P. McClave, Chris Weidman.
Our thanks to McClave for allowing us permission to use this photo after we spotted it recently on Facebook.
Got Pictures?
We're always interested in a peek inside the latest from your station -- and that now includes radio and TV.  We're also interested in those great "blast from the past" shots.  Send your pictures to cnyradio@cnyradio.com or upload via the Contact Page.  There's a new Picture of the Week every Friday.