UTICA/ROME -- Ever heard of a radio station called WCML?  Well, there's a WCML-FM in Michigan, but we're talking about the one on the AM dial, here in Central New York.  Well... if you ask the FCC, it doesn't exist, but the Children's Museum of History, Natural History, Science and Technology in Utica would beg to differ.
This is the studio of what the museum refers to as "WCML," a tiny radio station that transmits on low power (low enough that it doesn't need FCC approval) at 560AM.  Even if you drive right up next to the building, you might not hear anything; the station doesn't transmit all the time.  You can see the equipment anytime, but it's usually only powered up for school field trips or other large group visits.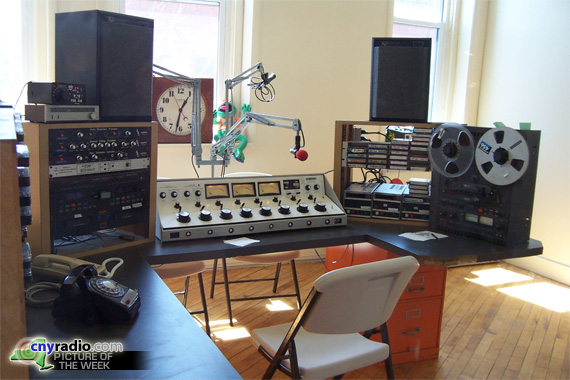 WCML came to fruition in 2005, about two years after the former Regent Broadcasting (now Townsquare Media) moved from Whitesboro to Marcy. In order to keep the cluster's stations on-air seamlessly, the new studios were built with brand new gear, meaning there was suddenly plenty of "surplus" equipment back in Whitesboro when the move was completed.  Chief Engineer Tim Perry assembled the studio, complete with real carts loaded with spots, jingles and music beds which used to run on-air.
You can see some different angles of the studio and its gear -- along with some shots of the station's first day in action -- on the Children's Museum website.  If you ever want to see it up-close, the museum's located in downtown Utica, right next to the train station.  (Here's a link to the museum's page with details about operating hours and admission fees.)
Got Pictures?
I know nobody wants to see photos from my own collection every week, so feel free to send your own submissions to cnyradio@cnyradio.com.  Whether it's TV or radio, a recent event or a "blast from the past," I'd love to share your photos here on some upcoming Friday in Picture of the Week.  Seriously, send 'em in -- I'm going to have a pretty full plate here over the next several weeks and I'd really like to not be digging around for photos at the last minute every week :-)