ITHACA -- The popular interactive quiz show Whad'Ya Know is celebrating its 25th anniversary this year.  And earlier this summer, Finger Lakes Public Radio (WEOS) brought host Michael Feldman and the rest of the crew to Ithaca to broadcast the show live from the State Theatre.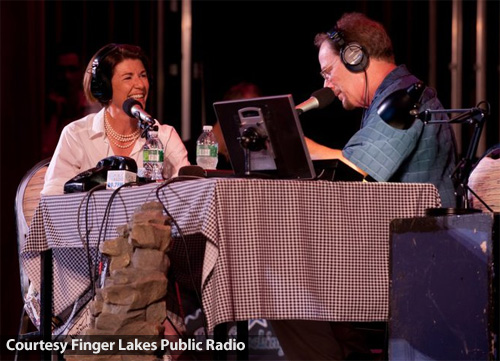 In this photo, Feldman, at right, interviews nationally-syndicated newspaper advice columnist Amy Dickinson, who lives in nearby Freeville.  The live broadcast had an audience of about 700 people, and there are many more photos of the event on the Finger Lakes Public Radio Facebook page.  The station encourages listeners who appear in the photo album to tag themselves so you can share the photos with your friends.
The live broadcast took place on June 5, and WEOS aired an encore the following Friday.  If you missed it on the air, you can still listen online: a special page on the WEOS website has links where you can stream the show, or you can download the entire thing as an MP3 file.
Got Pictures?
We're always interested in a look at what's happening today at your station or a look back at something or someone notable from the past.  Send those shots to cnyradio@cnyradio.com.  There's a new Picture of the Week every Friday.