UTICA/ROME -- We're a week behind on this one, but with all the big news going on last week (and all sorts of holiday festivities), we simply ran out of time to write a Picture of the Week article.  So, for a moment, let's all pretend it's Christmas time once again, as one Utica/Rome radio personality shares one of his family's favorite holiday traditions.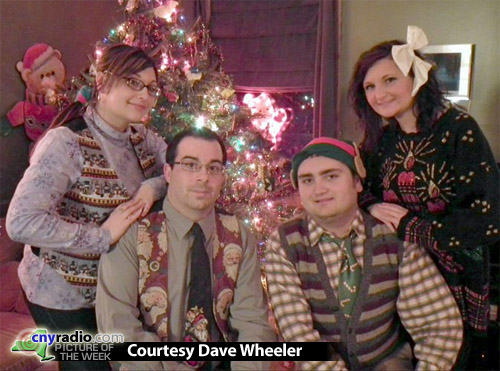 The third person on the right (with the hat) is Dave Wheeler, who goes by "Dave After Dark" on the overnight shift for Lite 98.7 (WLZW).  Dave explains the photo:
For this tradition, all the credit goes to my older sister Heather. The idea is before Christmas Eve, go out and buy the ugliest Christmas outfit you can find. Then you have to wear it on Christmas Eve while the entire family is over and vote on the ugliest. This game is very cheap and very affordable; maybe 10 dollars max if you know where to shop.
No word on who won the contest, but it certainly looks like it generated a few laughs as everyone tries to outdo each other for the honor of having the worst-looking outfit.
Got Pictures?
We're glad that most of our recent Picture of the Week have come from you!  If it's been awhile since your station or cluster has been featured here, you can change that pretty quickly.  If you've got photos from recent station events -- or if you have any coming up soon -- send those shots to cnyradio@cnyradio.com or upload via the Contact Page.  If you've got nothing current... well, we love classic photos too.  There's a new Picture of the Week every Friday, assuming you keep those pictures coming in.
Disclosure: CNYRadio.com editor Peter Naughton is a part-time weekend personality at Lite 98.7, but no preferential treatment was given in the selection of this photo.  While we're generally lucky to have a different reader-submitted picture almost every week, it's rare that we have multiple photos "queued up" for this feature.